Lead Abatement / Remediation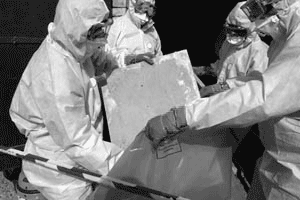 Very dangerous if performed improperly.
You need certified professional technicians, and they need filtration equipment. Check qualifications and references.
If not done correctly, can cause a bigger lead hazard.
Abatement methods include enclosure, removal, replacement and encapsulation of contaminated material.
Contact your local health dept. for state and local regulations regarding lead abatement in your city or town.
Lead abatement is the process of the safe removal and reduction of lead hazards in your environment. This is a serious safety concern as humans can be poisoned during unsafe renovations or repainting jobs in locations with lead paint. According to the CDC, "More than 250,000 children in the United States have dangerous levels of lead in their bodies". The most common sources of lead exposure today are from soil that has been previously contaminated with lead and dust or flakes from lead-based paint. Lead-contaminated dust is extremely toxic (especially for children) and accumulates in an environment. HEPA filtration equipment is essential to proper and safe conduction of lead abatement and renovation projects, and AirWorkx™ machines are certified and up to the task.

Common Abatement Methods:

Enclosure is the easiest method. Lead paint is covered with flexible wall covering, paneling or gypsum board. Enclosure works best on large, flat surfaces that are not subject to friction.

Paint Removal may be done on or off the work-site. On-site paint removal often creates large amounts of lead dust, fumes and mists. This is a job for professionals who utilize HEPA air filtration systems.

Replacement involves removing the object coated with lead paint entirely and replacing it with new material. It's one of the best methods for doors, windows, and moldings.
Encapsulation covers and seals lead paint with a special coating. It is less expensive than more thorough methods of abatement, but not suitable for surfaces subject to friction.
For further information, please contact
the National Lead Info Center:
1-800-424-LEAD
Or contact your local health department.